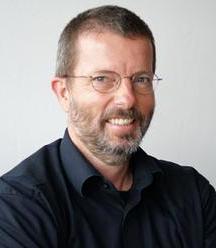 Prof. Dr. Robert Rieben
Group leader, DBMR Coordinator Murtenstrasse 40, 50 & Eye Clinic
Phone

Fax

+41 31 632 75 94

E-Mail

Office

Mu50 E402

Postal Address

University of Bern
Department for BioMedical Research
Murtenstrasse 50
CH-3008 Bern
Switzerland

Consultation Hour

By agreement
CV
Born on October 9, 1960 in Bern, Switzerland
Swiss citizen
Married with Therese Loder
Daughter Marina Rieben, born 2010
Education / Scientific Career
1988 – 1992: PhD thesis on ABO antibodies at the Central Laboratory of Hematology, University of Bern. Supervisor: Urs Nydegger, MD
1992 – 1994: Postdoc at the laboratory of Prof. Nydegger. Continuation of projects on ABO antibodies as well as supervision of MD and PhD students.
1995 – 1997: Postdoctoral Fellow of the Swiss National Science Foundation. Department of Nephrology, Leiden University Medical Center, The Netherlands. Supervisor: Mohamed Daha, PhD. Work on xenotransplantation, mainly the use of synthetic antigens and complement inhibitors to prevent hyperacute rejection.
1997 – 2004: Senior Scientist (Oberassistent). Clinic of Cardiology, Bern University Hospital. Projects in the field of heart (xeno-)transplantation, complement inhibition, and myocardial infarction.
Feb. 26, 2002: 'Habilitation' (PD Dr. phil. nat.) for immunology with specialization on transplantation immunology.
March 1st, 2007: Associate Professor (Prof. Dr. phil. nat.), University of Bern
2007 – 2012: Head of Research, Clinic of Plastic, Reconstructive and Hand Surgery, Bern University Hospital
since 2005: Senior Scientist and Research Coordinator, Department of Clinical Research, University of Bern. Work on ischemia/reperfusion injury, inflammation and innate immunity in xeno- and allotransplantation, myocardial infarction, and surgery.
Major Research Grants (last 5 years)
2005 – 2010: RISET Project, EU 6th Framework, 290'000
2007 – 2010: SNSF basic research grant (main applicant), 260'000
2011 – 2014: SNSF basic research grant (main applicant), 331'000
2012 – 2014: 3R Research Foundation grant, 89'000
2012 – SNSF: basic research grant (co-applicant), 238'000
2014 – SNSF: basic research grant (main applicant), 499'000
2015 – SNSF: Indo-Swiss JRP grant (main applicant), 250'000
2015 – SNSF: R'Equip grant (co-applicant), 182'000
Membership
The Transplantation Society, International Xenotransplantation Association, American Society of Transplantation, Swiss Transplantation Society (Founding Member)
European Complement Network (Board Member 2009-2015), International Complement Society
Swiss Society for Laboratory Animal Science
Swiss Society for Allergology and Immunology, Dutch Society for Immunology
Biochemical Association of the University of Bern
Contribution to Scientific Peer-Review
Editorial Board: Xenotransplantation, Frontiers in Immunology
Journals: American Journal of Transplantation, Transplant Immunology, Transplantation, Xenotransplantation, Molecular Immunology, Immunobiology, Transplant International, Clinical and Experimental Immunology, Swiss Medical Weekly, PLOS One, Glycoconjugate Journal, and others
Granting Agencies: Research Framework Program of the European Union, Swiss National Science Foundation, Deutsche Forschungsgemeinschaft, Medical Research Council UK, National Institutes of Health USA
Teaching / PhD-students / Support of Young Investigators (last 5 years)
2007 – 2011: Pranitha Kamat, PhD in immunology (then postdoc until 11/2102)
2008 – 2015: Yara Banz, MD-PhD, junior group leader (Habilitation, PD Dr. med.)
2009 – 2013: Jana Ortmann, PD Dr. med., group leader (Habilitation, PD Dr. med.)
2009 – 2013: Claudia Dührkop, PhD in Biomedical Sciences
2009 – 2013: Anjan Bongoni, PhD in Biomedical Sciences, Postdoc until 08/2014
2010 – 2011: Marie-Christine Franz, Master in Biomedical Sciences
2010 – 2014: Thusitha Gajanayake, PhD, Postdoc (Hand Surgery)
2011 – 2015 Shengye Zhang, MD-PhD
2013 – 2015: Julie Denoyelle, Master in Life Sciences
2013 – Mai Abd el Hafez, PhD in Biomedical Sciences
2015 – Riccardo Sfriso, PhD in Biomedical Sciences
2015 – Adriano Taddeo, Postdoc (Hand Surgery)
2015 – Dzhuliya Dzhonova, PhD in Biomedical Sciences
Publications
Selected presentations and speeches